Sport & Recreation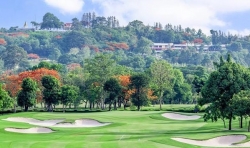 Enjoy a round of golf at the picturesque Siam Country Club just outside Pattaya
Active Relaxation
Guests looking to get their health fix whilst at Siam Bayshore will be pleased to see an extensive range of options available within the hotel. For other activities outside the hotel, please see our Pattaya page.
The recreational activities listed below are available on-site (fees may apply).
On-site amenities
Pool table
Table tennis (ping pong)
Board games
Books, magazines, newspapers
Two swimming pools with Jacuzzi
Fitness centre
Children's pool/slide and playground
We also have six (6) championship-level courts open to the public daily from 7:00 – 18:00 hrs. For bookings, call +66 (0)38 428 678. Note: complimentary 1 hour free for in-house guests during the day time.
Courts: Bht 300 per hour per court
Rackets: Bht 150 per hour
Balls (4): Bht 100 per hour
Balls (basket): Bht 300 per hour
New balls for sale: Bht 300 per can
Loss or damage to racket will result in Bht 5000 fee per racket. Loss of ball Bht 150 per ball. In case of rain within 15 minutes of playing, court fee is waived, up to 30 minutes, half the court fee is charged.
Thai Cooking Class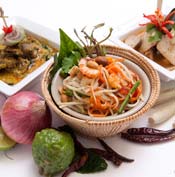 Take home a new skill that will impress friends and neighbours with our Thai Cooking Class. Learn the best traditional cooking secrets from our expert chefs in a relaxing environment. Classes are available between 13:00 and 17:00 daily on the open-air Siam Elephant Restaurant Terrace.
Class includes:
Thai herbal drink (during class and meal)
Expert instruction from trained chefs
Certificate of participation
Chefs apron
Thai cook book
Photo keepsake.
Program:
Briefing on Thai vegetables and herbs and how to properly cook rice
Step-by-step preparation and cooking of two (choose from amongst 13) recipes
Dining on prepared dishes (plus selected favourites provided by our executive kitchen).
Duration: Two hours
Price: Baht 1,200 nett per person / Baht 2,200 nett per couple
For more information, please contact the front desk or call +66 (0)38 428 678 or email siambayshore@sukosolhotels.com.